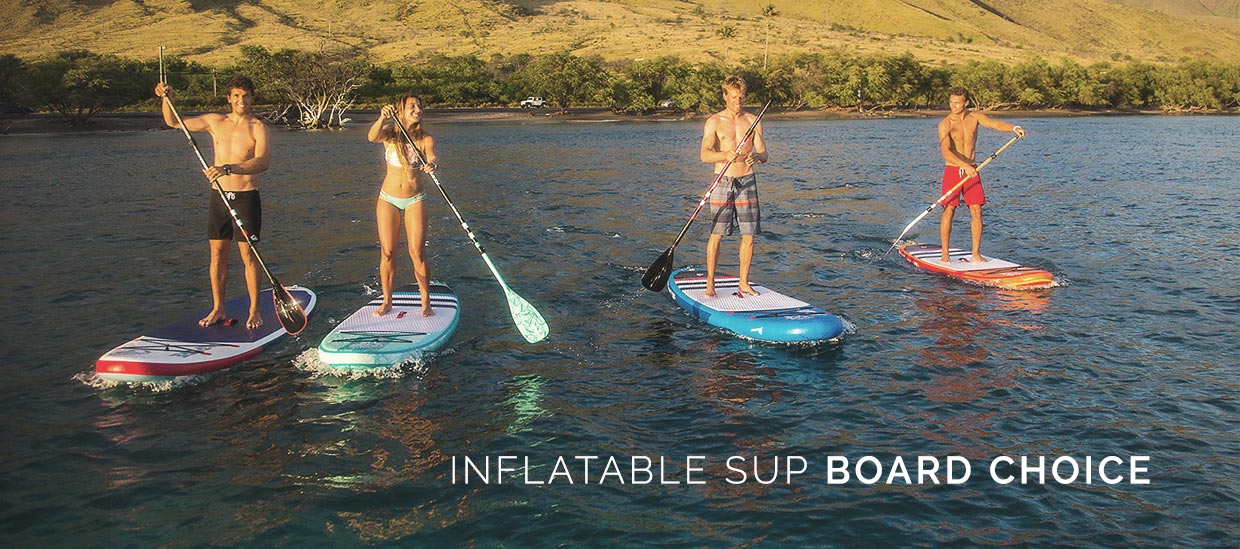 Our paddle board size guide covers the paddleboard key questions 'Which paddle board size is right for me?' 'Touring Board VS All-Round?' 'Why a 12'6 touring SUP board over an all round paddle board?' Each of these types of board have their own characteristics and some will suit you more than others, so read on to narrow down which inflatable SUP is right for you.
– TYPES OF SUP –
– QUICK GUIDE TO WHICH PADDLEBOARD IS RIGHT FOR YOU? –
Once you've narrowed down what type of paddle board you're after, you will find that there are other options that can affect your paddle board choice. Your height, weight and wether your paddling with kid's or dogs and where your paddling? sea, river or lake or all of them…This quick paddle board guide will get you up to speed on which board is right for you…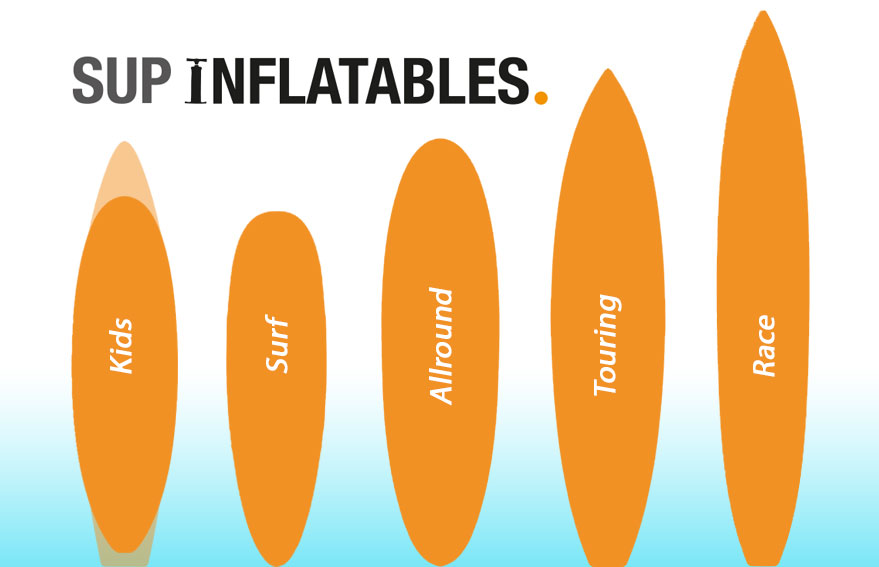 WHICH PADDLE BOARD IS PERFECT FOR YOU?
The all round paddle board is for everyone who wants a great fun stable paddle board, Size's ranging from 9'8 for the shorter rider too 10'8 for the heavier rider. The most popular size been 10'6 x 32 x 4'75 thick for most families. If your looking for an all-round board and everyone is under 100kg its pretty key to look for a board that is 4,75" thick with high density paddle board drop stitch, This will allow everyone to have fun even in windier weather. (Try keep away from 6" thick boards) If your under 5'6 you may be tempted with a 9'8-10'ft boards thats 31" wide x 4,75" thick, these boards give the shorter rider a lighter board that's easier to carry and a board that is more reactive to a lighter, shorter rider paddle stroke. These boards are also great for taller riders wanting to catch a wave. If your over 100kg, look out for 10'6 x 10'8 boards that are 6" thick in high density drop stitch, these boards are between 32 x 34 wide. If your over 100kg with good stability and balance go for a 32" wide board but if you prefer a higher degree of stability go for 34" wide board. When searching out a great 6" board look for a board that has high density drop stitch and stay away from brands that claim 'Military Grade'.. its completely made up and only used by brands that are bending the truth of there capabilities and your board will bend with it! 🙂
Kid's specific paddle boards have the characteristics that make them perfect for children who love to paddle. They tend to be shorter than you may choose as an adult, and usually use lightweight construction to make them easy for kids to handle. Kids SUPs can come in allround and race shapes.
If your kid's want an all-round SUP board, choose a 8-10ft length that is no more than 4,75" thick and no more than 31 wide, This will give them a great shaped board that is very stable and lots of fun. Try not to buy anything 6" thick, The 6" thick SUP board tends too be too high volume even for most adults and for children wanting to paddle on flat water or catch a wave will be too unstable. Kids Touring Paddle Board If your kids have got the adventure bug and love paddling next to you on longer paddling adventures, a 11ft touring board is a great option, Keep the width too about 30 wide and again make sure the board is no thicker than 4'75 thick to give them stability whilst enjoying there paddling adventure.
Most of us are very happy to catch a wave on an all-round SUP board, SUP Boards between 10' and 10'6 x 4'75 thick love catching a small wave, especially for newbies that are having lots of fun at the beach, for anyone taking SUP surf seriously and want a SUP specific board, Red Paddle Co, Fanatic and Gladiator do great specific SUP Surf boards or look at Red Paddle Co's 9'8 or Fanatic's 9'0 for great slightly larger options that are still smaller than the all-round shapes.
Touring boards are great for the adventure seekers as well as families looking for a little extra room on the front of the board for kids and dogs. If your a shorter, lighter rider, look at boards about 11ft x 30 x 4'75 thick and for everyone else a 12'6 x 31"/32" is a great touring board shape. If your planning to go full adventure paddle boarding look at paddle boards over 13'2", This longer shape is a must for holding camping equipment and picnics and been out on the water for days on end. Again drop stitch is pinnacle on these longer boards and if your budget doesn't stretch too a Red Paddle Co, Naish, Starboard Double Chamber or Fanatic Premium, Look for boards that have high density drop stitch and are premium quality. Gladiator is a good brand too look at as well as Anomy and Naish One Race Design in the 12'6 touring boards.
If you ever get too wanting to race on a paddle board you will either want be part of the N1SCO events, so will need a Naish One Race board or you may want to be part of the Red Paddle Co Dragon Races or you will want to race in the 14' or 12'6 SUP races. Board length and width are key in these events and you will want too balance your need for stability with your want to win too find the ultimate and perfect race board of yourself.